About the training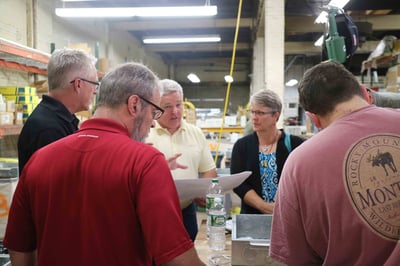 Over 500 people working for Massachusetts Construction and Facilities Management organizations have turned to Haley & Aldrich to help address their organizations' challenges and make their work more fulfilling. Using Lean, our clients have found ways to better understand customers, optimize processes, improve team performance, develop talent and achieve better results.
We began our own Lean journey in 2005, seeking to integrate Lean principles into all that we do, from project delivery to defining our vision and purpose. And now, Haley & Aldrich is providing Lean courses to organizations in Massachusetts at no cost to the participants through a partnership with the Commonwealth's Workforce Training Fund. These courses are for people who work in the built environment, including architects, owner/developers, project managers, subcontractors, facilities leaders, and construction managers.
We look forward to sharing our practical knowledge, and creating an environment for peers to learn and collaborate for positive change using Lean. We only have one course left and space is limited, so reserve your spot today!
Participants receive a Lean White Belt Certification through Haley & Aldrich for the successful completion of one course, and a Lean Yellow Belt Certification through Haley & Aldrich for successful completion of two or more courses.
Here are a few examples of how Lean has helped organizations around the country:
How do I qualify for the state-funded training?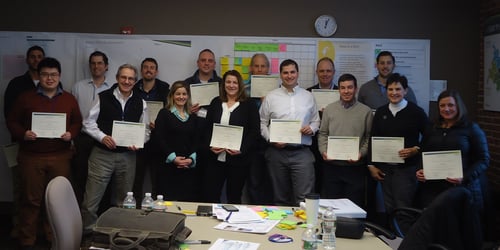 In order to qualify, Massachusetts businesses must pay into the Workforce Training Fund. All for-profit companies pay into the fund. Government agencies are not eligible to apply. Applicants must provide an Employer Eligibility Form and a current (must be less than six months old) Massachusetts Department of Revenue Certificate of Good Standing with their application. All trainees must be paid at their regular rates during time spent in training.
If you do not meet the requirements of the Workforce Training Program, you can still work with our Lean Consulting Services team to begin your Lean journey. Contact one of our Lean Trainers to learn how.
Current course offerings
All courses will be held at the following location:
465 Medford Street
Suite 2200
Boston, MA 02129
Constructing Our Future, the Lean Way
This course is 20 hours completed over four sessions. Participants who actively participate in the four classes and apply what they learn to address one discrete challenge in their work will earn a Lean White Belt Certification through Haley & Aldrich.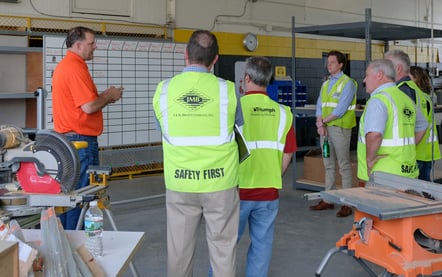 This course brings together a cross-section of participants from the built environment, including owners, architects and designers, owner's project managers, construction managers, and subcontractors. We are getting the right people in the room to learn and apply Lean principles and tools, ask questions, challenge the status quo, and find ways to start doing things differently in their daily work.
In a hands-on, collaborative space, participants learn and come away with:
Techniques to better understand customers and what they value, and see and reduce waste that interferes with delivering that value
Specific ways to improve collaboration with owners and team members
Visual workplace management methods to improve the flow of work and prevent budget and schedule overruns
Behaviors and skills that build trust, communication, and respect; the foundation of high-performing teams
An understanding of how to advance a safety culture in the organization using Lean to change how we plan, do, and reflect on our work
| | | | |
| --- | --- | --- | --- |
| Dates | Time | Registration Deadline | Number of Slots Available |
| June 5, 12, 19, & 26, 2018 | 8 a.m. - 1 p.m. | June 1, 2018 | 10 |
Past course offerings
Lean Fundamentals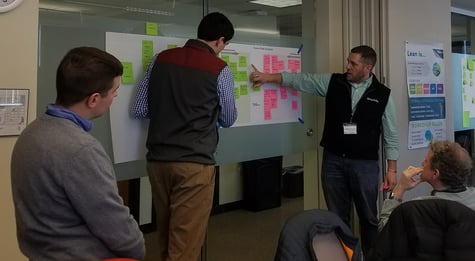 Gain a principle-based understanding of Lean and the relation to Process Improvement and Quality Assurance. A range of tools and Lean vocabulary will be explained, demystifying and lowering the barrier so participants can begin their journey toward world-class problem solving. This course will include both formal instruction and a "learn-by-doing" approach, which will provide the skills necessary to make an impact on quality, cost and timeliness at your organization.
Testimonials:
"I think everyone could benefit from knowledge of how to look at problems and to use an A3 to get to the root of the problem so that you can work on fixing the right issue."

"It was an excellent use of my time and taught me how to use new tools that will make me a more effective collaborator and problem-solver."

"The value received versus the time invested was an unqualified win. Under the grant program the cost obviously can't be beat, but the great value provided far outweighed the fact that it was 'free'."
Lean for Construction Professionals
Construction professionals have awoken to the power of Lean. This course will build on Lean Fundamentals by exploring and teaching the state of practice of Last Planner System®, Target Value Design® and Lean for Safety. Become proficient in tools necessary to overcome the two biggest problems in construction – projects that do not meet schedule, and projects that run over budget during the design phase. The training will enable improved performance when working with project teams. Firms that understand and apply Lean for Construction are in greater demand, enjoy higher profits and routinely promote staff with an understanding of Lean.
Testimonials:
"[I valued] the collaboration and networking with others and the reinforcement of Lean principles. It is nice to have similarly minded folks to reach out to for support and the continued Lean exposure helps to reinforce our behaviors moving forward."
"Great speakers and presenters who are knowledgeable and push you to get out of your comfort zone for maximum benefit of learning"
"I'm drinking the Kool-Aid of Lean and I think the more people that get exposure in our industry, the better."
"Continual learning opportunities are essential in AEC industry and don't think we do it enough as a community, especially on important topics that drive value or efficiency"
This project is funded by a Workforce Training Fund grant through the Commonwealth of Massachusetts, Executive Office of Labor and Workforce Development. The grant program is administered by Commonwealth Corporation.
Register Now
Take the first step to beginning your Lean journey by filling out the form below! If you have any questions, please contact KMeade@haleyaldrich.com.